News
Project meeting in Belgium (May 2023)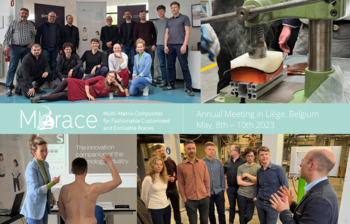 In May 2023, the project partners of the MBrace project were on site in Belgium to gain insight into the manufacturing and processing of basalt-based fibers (Isomatex) and versatile processing technologies including the molding of thermoplastic fiber composites (Sirris). As part of the meeting, all project partners presented their current results and discussed joint next steps. A detailed discussion of the effects and treatment options for scoliosis was accompanied by a guest talk from JumpIn, a Dresden-based company active in rehabilitation sports, and a workshop by the UJK project partners with explanations and demonstrations on the effective functioning of scoliosis braces.
Up to this point, the project has created various brace designs while optimization methods and materials are being investigated. Currently, a study is comparing the gait of children while they are wearing their brace and while they are not.
Design Process Insights (April 2023)

The first months of the design process were characterized by extensive research about scoliosis, its treatment options and, above all, user research. For this purpose, we visited our partners in Kielce (Poland) and interviewed three patients. The first formal brace designs were then developed. However, the focus here was less on actual feasibility than on creating a variety of forms and opening up the horizon of possibilities. In joint discussions with our partners, the designs are reviewed and further revised.
Kick-off meeting for the MBrace project (August 2022)
This year saw the launch of the MBrace project, which is being carried out in European cooperation and aims to make scoliosis brace therapy more comfortable for children. New materials, new fitting methods based on AI and new manufacturing processes are expected to fundamentally change the image of the corset. Not only that, the corset is set to become fashionable and will receive a complete visual overhaul. For this, a design team from the HTW's Professorship of Design is on board. Research is being carried out in Belgium, Poland and Germany and the project is being funded with a sum of over 1.9 million euros. On Tuesday, August 30, all project partners came together for the first time for the "kick-off".